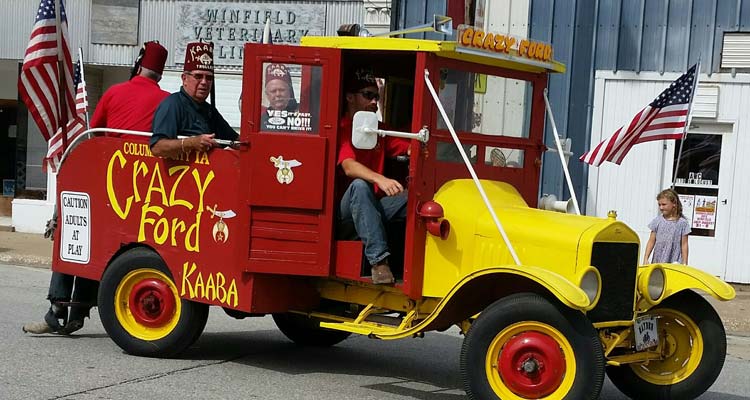 WINNERS FROM THE 8th ANNUAL KAABA SHRINERS SPORTSMAN'S GIVEAWAY
Upcoming Events
Shrine is Dark June, July & August No Stated Meetings
Sunday, June 3rd - Hospital Day at the Shriners Hospital Chicago
Friday, June 22nd - Kaaba Fish Fry
Saturday, July 7th - Kaaba Shrine Ceremonial Masonic Center Davenport
Sunday –Thursday, July 15th-19th - Imperial Sessions
Friday –Saturday, July 20th & 21st - Iowa Shrine Bowl
Saturday, July 21st - Iowa Shrine Bowl Parade 9:30 AM & Football Game 4:00 PM
Wednesday –Saturday, August 22nd – 25th - CSSA Branson, MO
Wednesday, September 5th - Stated Meeting Dinner 6:00 PM Meeting 7:00 PM - RSVP
Get Involved

Recent News
A benefit for Illustrious Sir Michael Chapman & his family Who recently lost everything in a house fire.
Friday, June 22, 2018
Masonic Center from 4 pm to 7pm
511 Veterans Memorial Parkway, Davenport, IA
Cost $12.00 Adults - Children under 10 years of age $6.00
All Masons and their families and the public are invited to attend and support this event.
Kaaba Shrine office will be accepting any donations for the family at
Their office - 511 Veterans Memorial Parkway, Davenport
Or mailed to
P.O. Box 3627, Davenport, IA 52808
Any Question call 563-386-2526
---
Get your Room for the
Iowa Shrine Bowl
July 19th, 20th & 21st
Comfort Suites
7402 Nordic Drive
Cedar Falls, IA 50613
1-319-273-9999
Call in early before the rooms are sold out.
Schedule for 2018 Shrine Bowl Actives
July 20th
10:00 AM - Football & Cheerleading Mini-Camp - at the UNI Dome
For Hospital Children and their parents, players, cheerleaders and coaches.
11:45 AM - BBQ - at the UNI Dome
For Hospital Children and their parents, players, cheerleaders and coaches only
1:00PM - 2:00PM - Visit with Minneapolis Shriner's Hospital Staff at the UNI Dome
Players, Cheerleaders and Coaches
1:00PM - 3:00PM – Evaluation Clinic for Potential new Patients
5:30PM – Honor Banquet - Report to Sullivan Brothers Convention Center
205 W. 4th Street, Waterloo, IA
Parents, family, and sponsors welcome to attend.
Must have reservations Meal price $30.00
JULY 21st
9:30AM - Parade – Cedar Falls
10:30AM – Autograph Sessions – at the end of the parade (about 10:30AM)
In small park at 4th & Main Street
4:00PM   IOWA SHRINE BOWL GAME: at the UNI-DOME
Doors open 2:00PM
---
Kaaba Shriners Sportsman's Giveaway Raffle
Saturday, November 3, 2018
---
Stated Meeting
Dinner @ 6:00 - Meeting @7:00
MAY 2nd (Ladies)
JUNE, JULY, AUGUST – DARK
SEPTEMBER 5th
OCTOBER 3rd
NOVEMBER 7th
DECEMBER 5th (STAG/ ELECTIONS)