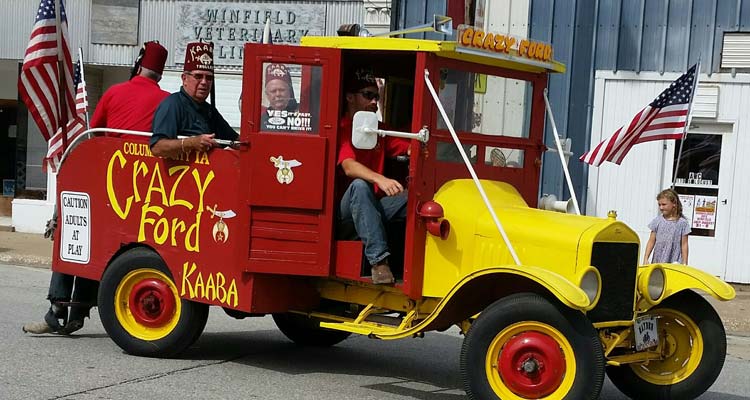 WINNERS FROM THE 2023 KAABA SHRINERS SPORTSMAN'S GIVEAWAY
Upcoming Events
August 2nd
No Kaaba Shrine Stated Meeting
September 6th
Kaaba Stated Meeting
Dinner at 6:00PM Meeting 7:00PM
October 4th
Kaaba Stated Meeting
Dinner at 6:00PM Meeting 7:00PM
October 28th
Kaaba Shriners Sportsman's Giveaway
Doors open at 5:00 PM Supper served at 6:00 PM
November 12th
Kaaba Stated Meeting
Dinner at 6:00PM Meeting 7:00PM
December 6th
Kaaba Stated Meeting
Dinner at 6:00PM Meeting 7:00PM
Get Involved

Recent News
Stated Meeting December 6, 2023
Dinner 6:00 PM
Meeting to follow

Menu
Prime Rib, Mashed Potatoes and Gravy,
Vegetables, and all the fixings
Meeting & Election of Officers to Follow
---
Got Sneakers?
DON'T THROW THEM AWAY
DONATE THEM
• Did you know most people throw away their used sneakers without
ever thinking about recycling?
• Are you ready to make a difference?
• You can by taking the first step toward a circular economy by going
to your closet and looking for any gently used "sneakers only" and
recycle them today!
• Donate your sneakers to:
• Kaaba Shriners: 511 Veterans Memorial Pkwy, Davenport, IA 52807
• Recycled to help needy families and children
• Drop off Monday thru Thursday between 9am and 3pm.
• Questions? Call (563) 386-2526
DROP OFF TODAY!!!
---
Petition for Initiation and Membership can be found on the Forms page.