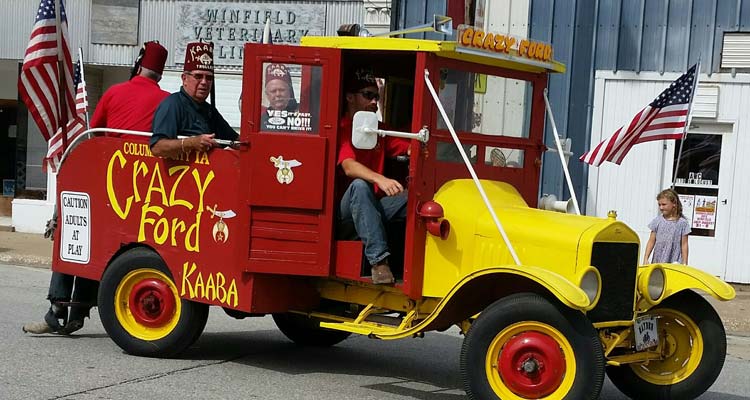 WINNERS FROM THE 8th ANNUAL KAABA SHRINERS SPORTSMAN'S GIVEAWAY
Upcoming Events
Wednesday May 2nd Stated Meeting (Ladies) –Dinner 6:00 PM Meeting 7:00 PM - RSVP

Shrine is Dark June, July & August No Stated Meetings

Sunday June 3rd Hospital Day at the Shriners Hospital Chicago

Friday June 22nd Kaaba Fish Fry
Saturday June 23rd Kaaba Shrine Ceremonial Masonic Center Davenport

July 15th-19th Imperial Sessions
Friday –Saturday July 20th & 21st Iowa Shrine Bowl
July 19, 20 & 21 - Iowa Shrine Bowl

Wednesday –Saturday August 22nd – 25th CSSA Branson, MO
Get Involved

Recent News
Masonic Center Fish Fry
Hosted by Kaaba Shriners
Friday, June 22, 2018
Masonic Center from 4 pm to 7pm
511 Veterans Memorial Parkway, Davenport, IA
Cost $12.00 Adults - Children under 10 years of age $6.00
All Masons and their families and the public are invited to attend and support this event.
---
Get your Room for the
Iowa Shrine Bowl
July 19th, 20th & 21st
Comfort Suites
7402 Nordic Drive
Cedar Falls, IA 50613
1-319-273-9999
Call in early before the rooms are sold out.
Schedule for 2018 Shrine Bowl Actives
July 20th
10:00 AM - Football & Cheerleading Mini-Camp - at the UNI Dome
For Hospital Children and their parents, players, cheerleaders and coaches.
11:45 AM - BBQ - at the UNI Dome
For Hospital Children and their parents, players, cheerleaders and coaches only
1:00PM - 2:00PM - Visit with Minneapolis Shriner's Hospital Staff at the UNI Dome
Players, Cheerleaders and Coaches
1:00PM - 3:00PM – Evaluation Clinic for Potential new Patients
5:30PM – Honor Banquet - Report to Sullivan Brothers Convention Center
205 W. 4th Street, Waterloo, IA
Parents, family, and sponsors welcome to attend.
Must have reservations Meal price $30.00
JULY 21st
9:30AM - Parade – Cedar Falls
10:30AM – Autograph Sessions – at the end of the parade (about 10:30AM)
In small park at 4th & Main Street
4:00PM   IOWA SHRINE BOWL GAME: at the UNI-DOME
Doors open 2:00PM
---
Kaaba Shriners Sportsman's Giveaway Raffle
Saturday, November 3, 2018
---
Stated Meeting
Dinner @ 6:00 - Meeting @7:00
MAY 2nd (Ladies)
JUNE, JULY, AUGUST – DARK
SEPTEMBER 5th
OCTOBER 3rd
NOVEMBER 7th
DECEMBER 5th (STAG/ ELECTIONS)